Effective Long End Mill Foam Milling Tool Bits for CNC Router Robotics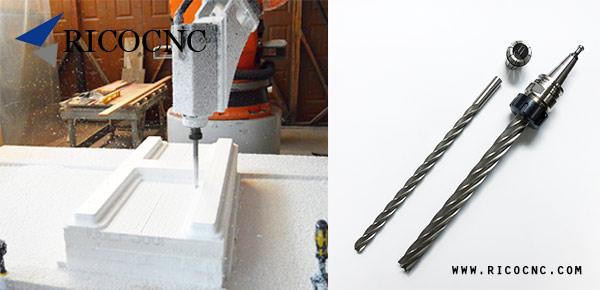 Effective Long End Mill Foam Milling Tool Bits for CNC Router Robotics
Nowadays 5-axis foam mill CNC routers, big gantry router for foam milling, 6 axis robotic arm, 7 axis industrial robots, are ideal for milling epoxy, foam and clay 3D design models.
But problems comes, as a lot of visitors leave message in the forums, under the Youtube videos where to get a effective router bits for EPS, Poly foam.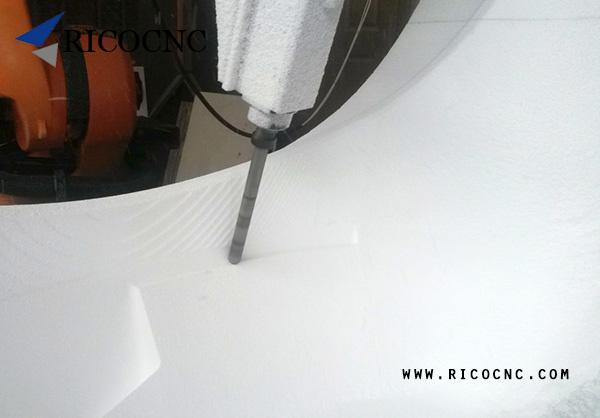 "Showing the tool cutting the foam where did you get the long tool?"—CNCzone
"I need a longer upcut spiral bit"
"I'm trying to find out about home made or custom made cutters for BIG fast foam block machining."
"I'm looking for a router bit for EPS, Poly foam and soft wood (Balsa and Basswood), I hope some one can point me to the right place.I can find small bits but no big bits"
"I use a robot for milling EPS to create a base form for further modelling. May I ask from which company do you buy the milling bit? I have a KRC 210 for milling with ISO 40 cone spindle. I would need an effective tool for EPS."
"Where can I get a big foam mill cutter bits?"
"At what speeds to CNC mill foam?"-- rcgroups
…
Long endmills, extra long router bits, longer milling cutter, DeepReach mills, BIG router bits are needed, but not easy to found a good router bits supplier who offers long milling cutters for foam processing.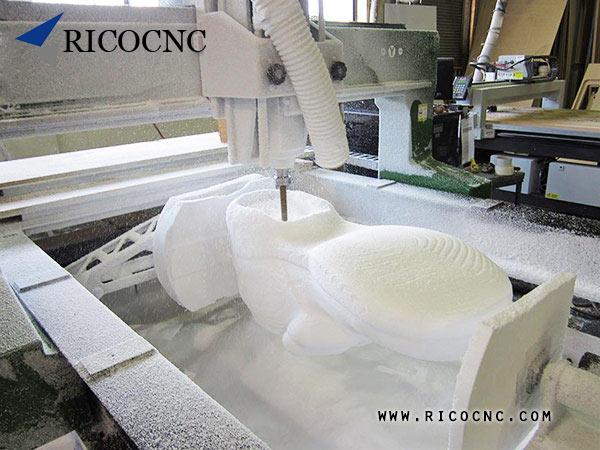 RicoCNC specifically designed for milling Poly foam, Styrofoam, EPS, EVA, etc.
Super hard high speed steel (HSS) industrial router bits provide deeper cuts and larger slices with fewer passes in thick foam, resulting in improved productivity and less assembly.
The up cut spiral design removes chips away from the workpiece. Unlike straight fluted tools, the chips are effectively flowing out of the milling channel and thus avoids clogging of the cutter tool.
4 flutes, 6 flutes and 8 flutes, more flutes will get better finishing surface,
Bigger diameter, from 6mm, 8mm, 10mm, 12mm, 16mm, 20mm, 25mm, 32mm, 34mm, 30mm, 50mm to 80mm, 100mm, 120mm, 130mm cutter blade diameter can be supplied.
Extra longer, long cutting length for deep milling, from 150mm, 200mm, 250mm, 300mm, 350mm, 400mm, 450mm, to 500mm length deep reach foam mill bits can be supplied.
Also can provide customized the foam mill bits as per customer's needs.
Ball nose, conical tapered bits, and flat square end mill foam mills are available
RicoCNC foam mill bits are widely worked with KUKA, YASKAWA robotics, gantry 5 axis machining centers, big foam-cutting gantry routers, and get great feedback and more orders from our clients.
If you are looking for effective
eps and foams cnc milling extra long end mill cutters
, welcome your inquiry.