RicoCNC will Participate in the 23rd Worldbex in Manila Philippines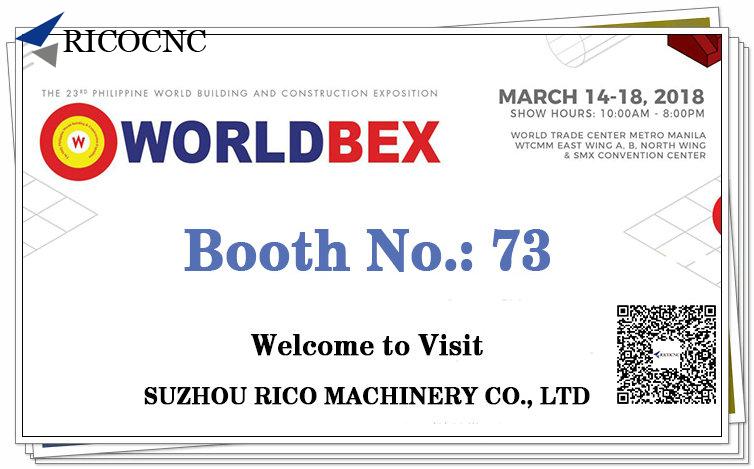 RicoCNC will Participate in the 23rd Worldbex in Manila Philippines
14-18 March 2018, 10:00am – 8:00pm
World Trade Center Metro Manila, East Wing A
Booth No.: 73
Welcome to visit and have meeting with you.

Worldbex is a 5 day event being held from 14th March to the 18th March 2018 at the World Trade Center Metro Manila in Manila, Philippines. This event showcases products like construction equipment, building materials, interior decor items, garden and landscaping tools and accessories, DIY home improvement kits, lighting systems, alternative energy sources and such other products in an ambience well suited for extensive business growth and networking etc. in the Building Construction, Home Furnishings & Home Textiles, Architecture & Designing, Real Estate Agents industries.

For more than a decade, WORLDBEX or The Philippine World Building and Construction Exposition has been a haven for the local and international building and construction industry, supported by acknowledged sectors of society and a visitor profile of more than 150, 000 per year, it is dubbed to be Asia's most attended construction exposition. WORLDBEX holds a good number of global ties with countries such as Austria, Australia, Belgium, Brunei, China, Finland, Hongkong and Germany to name a few of the 25 participating countries, it is an ideal venue for business transactions and introduction of innovations.
WORLDBEX is known for putting together over 500 exhibiting companies and more than a thousand booths in a Wi-Fi ready exhibit area of 30, 000sqm ranging from building materials equipment services, construction design and development, for lining up the country's best architects and interior designers, plus the leading manufacturers and furniture exporters, for showcasing the top colleges and universities in interschool interior design competition and for bringing in the biggest names in the local and international building and construction scene for seminars.
Along with these impressive parts of the show, WORLDBEX is the only construction show in the country that offers Business Matching Service during a show covering the needs of both the consumers and producers. No wonder 80% of its visitors are more likely to do business with WORLDBEX exhibitors.

If anything we can help with cnc router machines and cnc spare parts, welcome to contact us.