CNC BT30 Tool System BT 30 Toolholder Clips Collets Nuts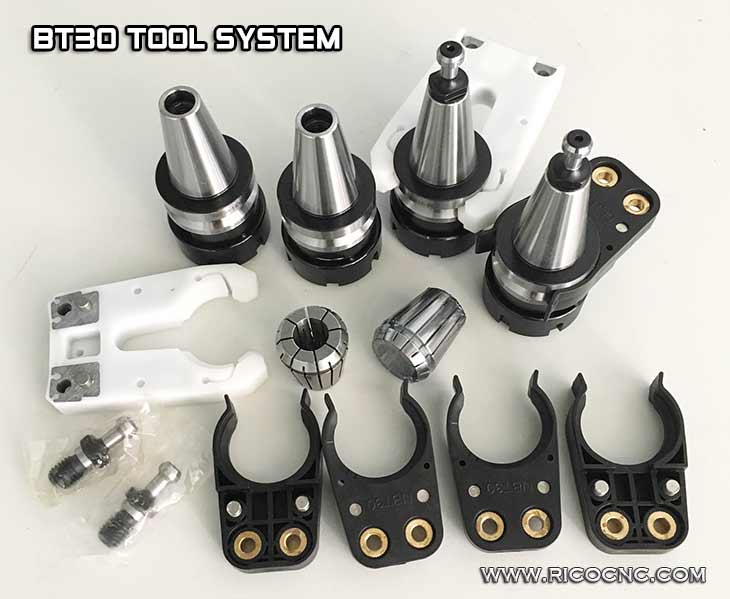 CNC BT30 Tool System BT 30 Toolholder Clips Collets Nuts
These BT30 collet chuck tool holders are BT30 toolholder with collet, nut and pullstud. BT30 toolholders for Komo and Laguna CNC routers. These are without dogs on the flange.
BT30 tool holder cone with pull post and collet nut, Max. 24000 RPM,
ER32 collets
(Fits Laguna 7.5 HP SmartShop2 spindle for CNC routers)
BT30 tool holder clip
is BT30 tool holder plastic fork (Fits Laguna SmartShop2 with 7.5 HP spindle). It is
cnc accessories tool holder forks
for many CNC routers.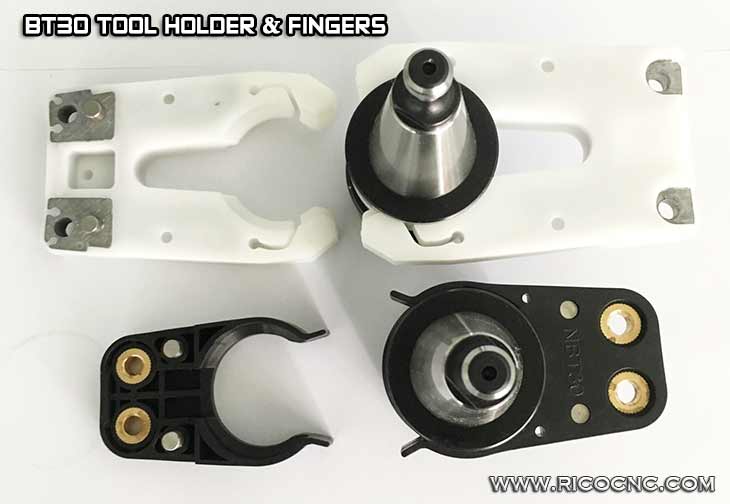 RicoCNC
offers many different types of
spindles
,
CNC tool holders
, collets, nuts,
locking fixture
and retention knobs for all CNC applications. Supplies CNC router tooling including CNC toolholders, collet holders, ER collet chucks, pull studs, taper shanks
BT30
,
BT40
, BT50, CAT50,
HSK
, SK40, JT50, ISO30, ISO20, and
tightening fixtures
.
Replace your broken or worn toolholder forks with these high quality tool forks available for BT30, HSK-63F and ISO30 collet chucks. These OEM replacement forks are found on many CNC routers using the ATC spindles. Quality molded over an aluminium core for strength.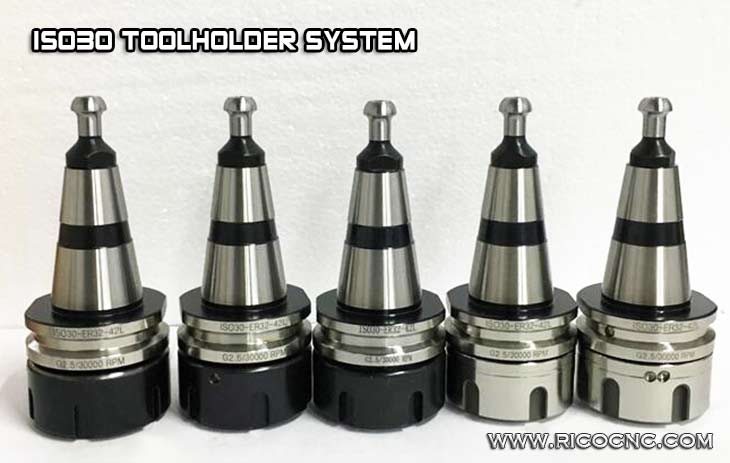 RicoCNC
provides outstanding service and solutions for your CNC equipment: Anderson, Biesse, Busellato, Beaver 25AVLT8, CMS, CR Onsrud, Flexicam, Komo Machinery, IMA, Intermac, Laguna Tools, Multicam, Morbidelli, Northwood, Weeke, SCM, Stealth, etc.
CNC Parts & Accessories,
CNC Clips
, Cones & Holders are easy to get here.
Welcome your inquiry.