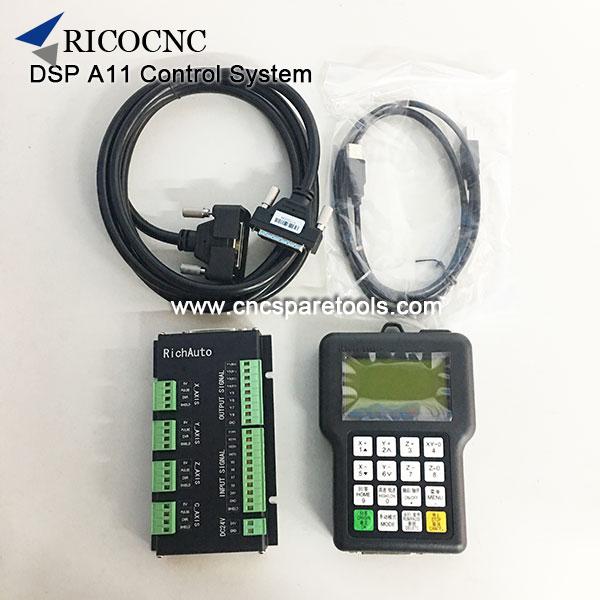 DSP A11 Control System Original Richauto Controller for CNC Router
RichAuto A11E A11S with USB interface

DSP is short for digital signal processing. This A11 version DSP CNC controller is the updated controller on the base of DSP 0501 version, they are compatiable use. This CNC DSP control system is widely used with cnc router machines. Easy to operate, and can control without computer.

CNC Router DSP A11 Control System Specifications:

Contents

Specification

Processor

160M DSP

File Memorizer

512M memorizer inside,

it supports file with any size because of adopting mobile memorize technology

Display

LCD with 128 dot*64 dot

Communication Terminals

USB terminal and U Disk

File Format

G code , PLT files (optional)

Axes

3 axes

Help Function

Useful help information and guide

Languages

Chinese, English

Operating Interface

Friendly Buttons and Menu Drive

Drive System

Step Motors

Interpolation function

linear, curve

Cutter Adjusting function

Yes

Spindle Control Function

Yes

System Data Inspect Function

Yes

Processing Data Inspect Function

Yes

Processing Position Adjusting Function

Yes

Multi Working Coordinates

It has 9 working coordinates

Stop Point Reprocessing Function

Yes

Copy Processing Function

Yes

Data protection when power off

Yes

Working Temperature

0C to +70C

Humidity

<90 no dew no frost

Outer Voltage

5 V

Consumptions

2 W

Dimensions(mm)

156*110*38
DSP A11 handheld controller can work without computer, easy operation and fast working speed. CNC Controller is the most important part for one CNC machine.
So here are some more points to introduce:
1). Support the standard G code, PLT format instructions; support domestic and international mainstream CAM software, such as: Type3, Art cam, UG, Pro / E, Master CAM, Cimatron, Wentai etc.
2). Provide with power-down protection. Instantaneous power processing system to automatically save the current processing of information
3). Support breakpoint memory, save 8 different breakpoint processing information.
4). Multicoordinate memory function. Provide nine working coordinate system,
5). Support online adjust spindle operating frequency. 1 - 8 threshold can be processed directly adjust up and down without suspend processing.
6). Support adjust working speed ratio online.
7). Simply manual operate mode: provides continuous, step (crawl), distance, manual operation became more simple and convenient.
8). Identifies M code, F code and other development commands, can open a special code based on user needs.
9). Comes with USB communications port, file transfer efficiency can be directly read U disk, card reader file, Plug and Play.
10). System can support automatic dynamic upgrades, convenient to remote operation, remote maintenance.
Also the DSP A11 controller manual can be sent for free here, welcome to contact us.
Here is the technical support: how to update DSP 0501 into DSP A11 control system, welcome to check.
RicoCNC also supplies weihong nk105 g2 control system, top quality
CNC cutter bits
,
cnc spare parts
and cnc toolings, etc.
Payment could be made by Paypal or Western Union or T/T bank transfer.
Welcome your inquiry.