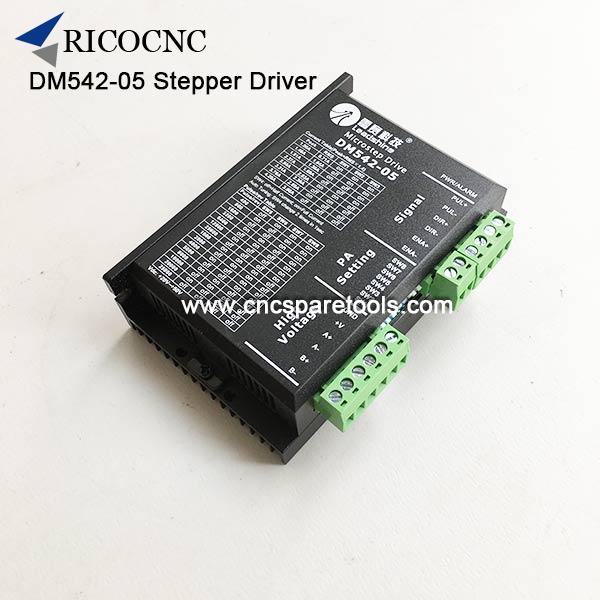 Leadshine DM542-05 Step Driver for Stepper Motor Driving
Leadshine DM542 digital stepper driver 20-50 VDC with 1.0-4.2A for 23, 42 57 stepper motors. DM542-05 2-phase step motor drivers are widely used with cnc laser machines, cnc router machines, etc.

Leadshine DM542-05 Stepper Driver Features:
1, Anti-Resonance provides optimal torque and nulls mid-range instability.
2, Motor auto-identification and parameter auto-configuration technology, offers optimal responses with different motors.
3, Multi-Stepping allows a low resolution step input to produce a higher microstep output, thus offers smoother motor movement.
4, 15 selectable microstep resolutions including 400, 800, 1600, 3200, 6400, 12800, 25600, 1000, 2000, 4000, 5000, 8000, 10000, 20000, 25000.
5, Soft-start with no "jump" when powered on.
6, Input voltage 18-50VDC.
7, 8 selectable peak current including 1.00A, 1.46A, 1.91A, 2.37A, 2.84A, 3.31A, 3.76A, 4.20A.
8, Pulse input frequency up to 200 KHz, TTL compatible and optically isolated input.
9, Automatic idle-current reduction.
10, Suitable for 2-phase and 4-phase motors.
11, Support PUL/DIR and CW/CCW modes.
12, Over-voltage, over-current protections.

DM542 Step Driver Specifications:

Model

DM542-02

Phase

2

Series

DM

Control Type

Step & Dir

Power

Voltage(V)

AC

-

DC

20-50

Current(A)

Peak

1.0-4.2

Matching Motors

(NEMA)

17, 23

Configuration

DIP switch

Connector Type

×

RicoCNC
also supplies
Leadshine DM860H drivers
, Yako drivers, servo drivers, etc, and other
cnc spare parts
, woodworking machine tools.
All spare parts are 100% original.