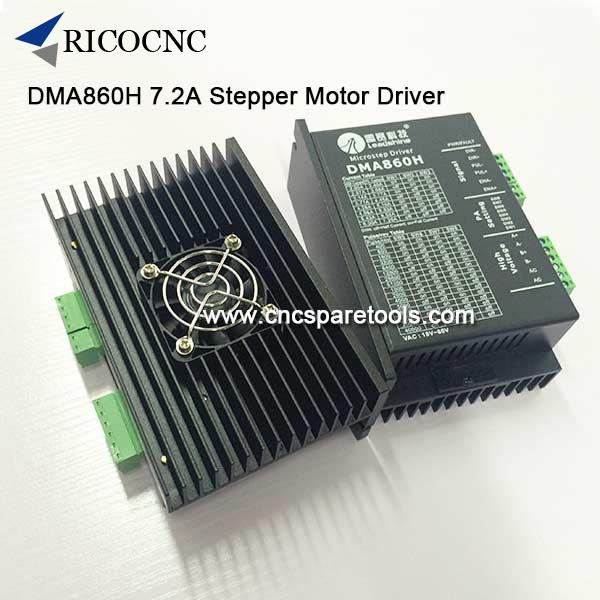 DMA860H Leadshine Original Stepper Driver for Stepping Motor Driving
This DMA860H Leadshine driver is the new vision of MA860H step driver, these two models are replaceable. DMA860H stepping driver is stepper motor driver widely used in CNC routers, CNC laser machine, cnc plasma machine etc.

DMA860H Leadshine Driver Specifications:

Brand

Leadshine

Item Model

DMA860H

Working Power

DC 18-80V

Peak Current

7.2A

Impulse Frequency

400KHZ

Storage Temperature

-20℃ - 65℃

Control Method

32-bit DSP Digital Controller Method

Size:

Apprex. 151mm*96mm*53mm

Fit for 57/86 system stepping motor driver

Suitable for 2-phase and 4-phase motors
Stepper driver controls the stepper motor moving, move direction and moving steps. Step driver micro the motor steps, so ensure the precision.
Package Includes:
1 x DMA860H Step Driver
DMA860H CNC Motor Driver Applications:
Suitable for many kinds of mid-size and small size automation device and facilities, such as: engraving machine, marking machine, cutting machine, laser photo-typesetting, graphic plotter, numerical control machine and auto assembly equipment etc. Its unique features make the DM860H an ideal solution for applications that require high-speed and little noise
RicoCNC
can suppliy a range of cnc drivers like Leadshine, Yako and stepper motors, also router spindles, cnc control system and other
cnc spare parts
.