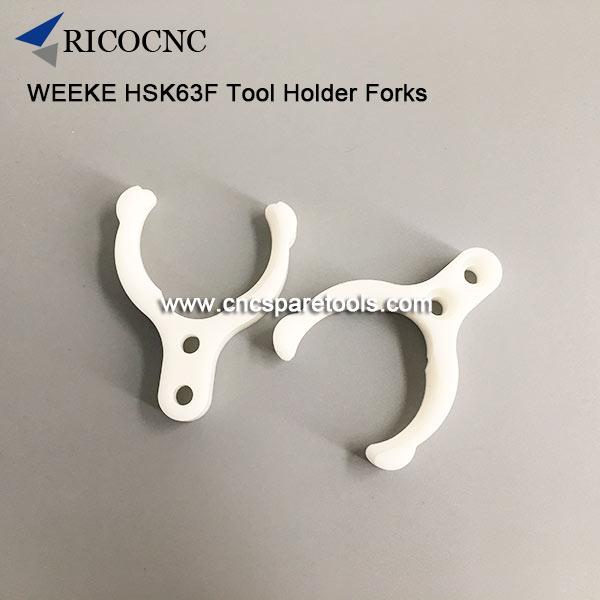 HSK63F Tool Changer Grippers for HOMAG WEEKE CNC Router Machine
HSK 63F tool forks for WEEKE VANTAGE CNC Router (Homag Chuck No.: 3811016830)
This HSK 63F tool gripper is special for HOMAG group WEEKE CNC Router Machining Centre, it is used for HSK63F tool holders clamping. It is easy to found one the VANTAGE cnc router linear tool magazines.
WEEKE HSK 63F Forks Specifications:
1. Made in China, famous brand
2. Imported USA Dupont white plastic material, high quality, reinforced and anti-explosion.
3. Alloy steel block casting inside, reinforced structure, has high loading capacity, also with steel positioning pins.
4. Dynamic balance grade: G2.5, 30000rpm
5. Yaw precision: 0.005mm
Weeke HSK 63F CNC grippers are available in stock for quick delivery.
Rico CNC
also supplies
CNC tool holder forks
for Biesse, KOMO, Homag, Weeke, CR Onsrud, Northwood, DMS, Busellato, Anderson, Omnitech, CNT Motion, HolzHer, MultiCam, Cosmec, Cammaster, Thermwood and Chinese ATC cnc router centers, etc.
Welcome your inquiry!