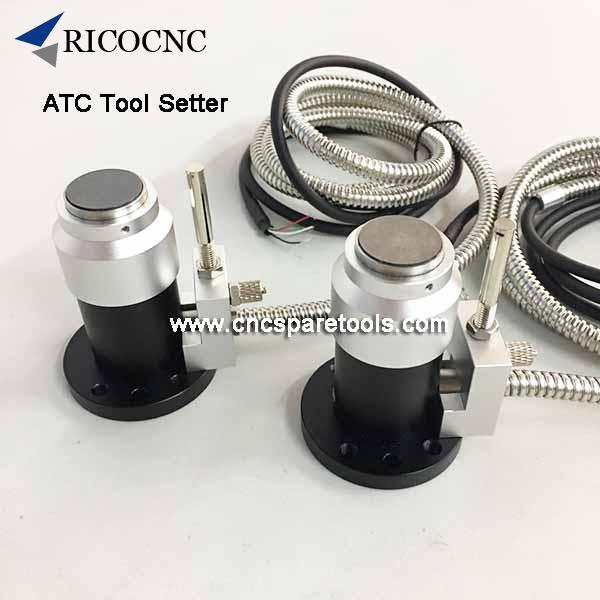 CNC Router Tool Setting Probing Sensor Auto Tool Length Offsets
This cnc tool length sensor is automatic tool setting gauge tool touch sensor for cnc engraving drilling milling machines, especially for auto tool changer cnc machines. It is easy to found in A.T.C. cnc routers and CNC milling machines.
The cnc auto tool height set, is typically used to measure and set tool lengths and Z-axis work offsets. When contacted by a tool it works with the machine control software to record position. The tool setter enables fast and accurate measurement of tools and setup of jobs.
The touch sensor for automatic tool length offset setting, all tooling is pre set on the tool setting bench, away from the machine. Automated functions within the machine allow for operator commands such as probe and set one specific tool, probe all tools in the magazine, probe for tool breakage, etc.
Automatic Tool Length Sensor Parameters:
Output mode: B: NC (normal closed)
Stroke: 5mm
Positioning accurancy: 0.001mm (Speed: 50-200mm/min)
Contact lifetime: 3 million times
Contact force: 1.5N
Contact parts: Cemented carbide alloy
Outer shell: Grinding 4S
Protection: IP67
Contact rate: DC24V 20Ma (max) Recommed 10mA resistive load
Cable: 3 meters
Protection tube: 1m
LED light: often ON, when working OFF
Have air blow function
RicoCNC also have NO (normal open) model for supply.
Benefits for the machines with auto tool setting probing:
1, CNC system will quickly identify component working height and pre set tool lengths accordingly.
2, These functions drastically reduce set up time keeping the CNC Router in production and downtime to the minimum.
3, Damage and wear to vacuum spoil boards is kept to a minimum. It also has the advantage of setting work offsets with no risk of chipping the edges of high performance carbide mills.
RicoCNC supplies a range of
CNC machine spares
,
tool systems
and accessories.
Welcome your inquiry.