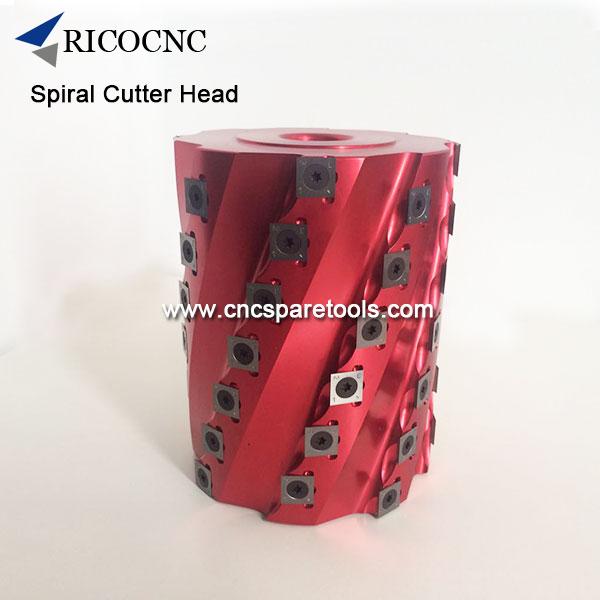 Light Duty Indexable Spiral Cutter Head for Wood Jointer Planer Moulder Shapers

This is the light duty spiral cutterhead for wood jointer planer moulder shapers machines.
Different model sizes supplied, please tell the out diameter, bore diameter and height of the spiral cutter head you need, and light duty or heavy duty. Also could be customized.

The helix head high performance helical cutterhead is enhancing the woodworking industry. The spiral head for your planer, moulder, shaper or jointer will cut noise, reduce dust and chips, and cut labor and material costs for your business. It is a newer design that uses the concept of carbide insert tooling rather than traditional straight knives installed in the cutterhead.

Spiral Cutterhead Features:
Helical cutter body with indexable inserts
Super easy cutter changes.
Minimal disruption from nicks in knives.
Used for rough planing and routing out curved elements on a ring fence
Fitted with carbide knives, each with four cutting edges
Just loosen each knife and rotate to a fresh edge when blunt
The blades are positioned on a spiral for a low noise, clean cut
Made from high tensile alloy for low weight and high strength
Quieter. Whisper quiet noise reduction technology
Advanced chip channeling and dust diversion for easy clean-up
Quick-turn 4-sided blades for easy maintenance and replacement
Reduces or eliminates Tear Out. Ideal for cross-grain, stringy or knotty material
Better surface on figured wood
And additional savings in labor, material and blade replacement costs

Light Duty Indexable Cutter Head Sizes:

Spiral cutterhead represents the leading edge in planer technology. It is widely used in planers, jointers, four-sided planer, Moulders and Shapers.
Welcom your inquiry for indexable insert spiral cutter heads and tenon cutter heads.

RicoCNC also supplies high quality cnc spare parts, CNC cutter knives, cnc tools and machines.

Welcome your inquiry.