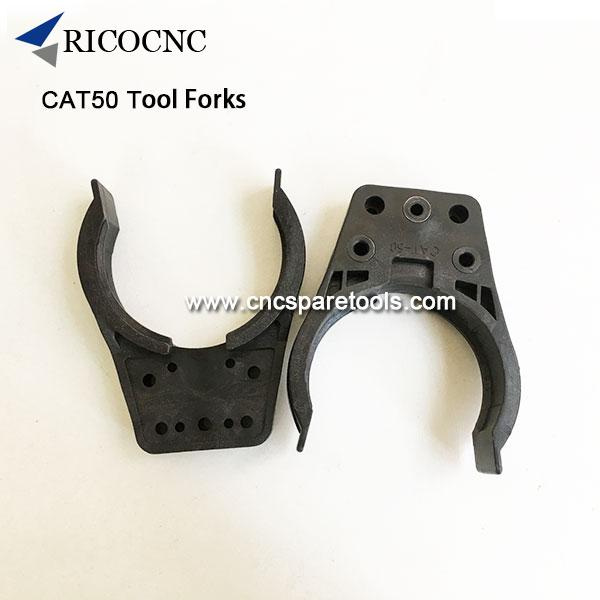 CAT50 Tool Fork Gripper for CAT 50 Tool Holder Clamping
CAT tooling systems were developed by American company. CAT 50 tool holder is a cat holder widely used in metalworking for big cutters clamping. And CAT50 tool fork is the clamping system to clamp CAT50 toolholders.

CAT50 tool holder looks same as BT50 tool holder, but it is different dimension. Same way, CAT50 tool gripper looks same as BT50 tool grippers, but the clamping dimension is also different.

CAT50 Tool Holder Fork Specifications:
1. Made in China, famous brand
2. Nylon material, high quality, reinforced and anti-explosion.
3. Steel plate insert, heavy loading capacity
4. Dynamic balance grade: G2.5, 30000rpm
5. Yaw precision: 0.005mm
CAT 50 ATC tool holder forks are available in stock for quick delivery.

RicoCNC is able to offer you the correct CNC tool grippers replacement for your auto tool changer magazines, such as ISO10, ISO15, ISO20, ISO25, ISO30, HSK25E, HSK32E, HSK40E, HSK50E, HSK63A, HSK63F, BT30, BT40, BT50, CAT40, SK40, JT50 tool changer forks. Also can produce customized tool forks as per your needs.
We also supply a range of cnc spare parts and woodworking tooling accessories for your choice.
Welcome your inquiry!