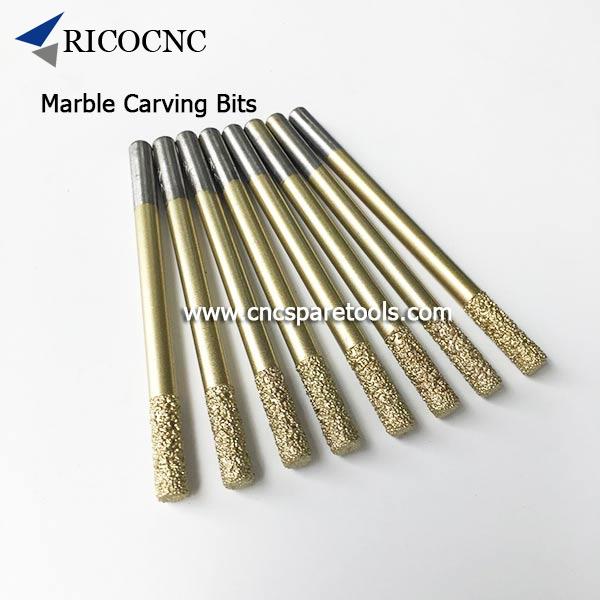 Marble Carving Tools Diamond Router Bits for Bluestone Cutting
C series diamond tools are suitable for engraving on bluestones, tile, ceramic and marbles.
These cutter bits are good for marble, bluestones, soft stone cutting.

Diamond sintering stone and glass engraving bit is new and high technological product, it has longer life, higher speed, more efficiency, lower cost, high precision.
Material applied for: Glass, ceramics, silicon slice, crystal, granite, marble, malmstone and so on...

Marble stone cutting bits can be applied to:
1. Marble counter top cutting, stone monument, tombstone carving.
2. Art glass, emerald, glass decoration processing.
3. Cutting, clearing bottom, drilling, 2D, 3D carving.
CNC Router Marble Cutting Bits Parameters:
| | | | | |
| --- | --- | --- | --- | --- |
| Model | CED (mm) | CEL (mm) | SHK (mm) | OVL (mm) |
| CP4-12 | 4 | 12 | 4 | 60 |
| CP6-12 | 6 | 12 | 6 | 60 |
| CP6-20 | 6 | 20 | 6 | 60 |
| CP8-12 | 8 | 12 | 8 | 60 |
| CP8-20 | 8 | 20 | 8 | 90 |
| CP10-12 | 10 | 12 | 10 | 60 |
| CP12-12 | 12 | 12 | 12 | 60 |