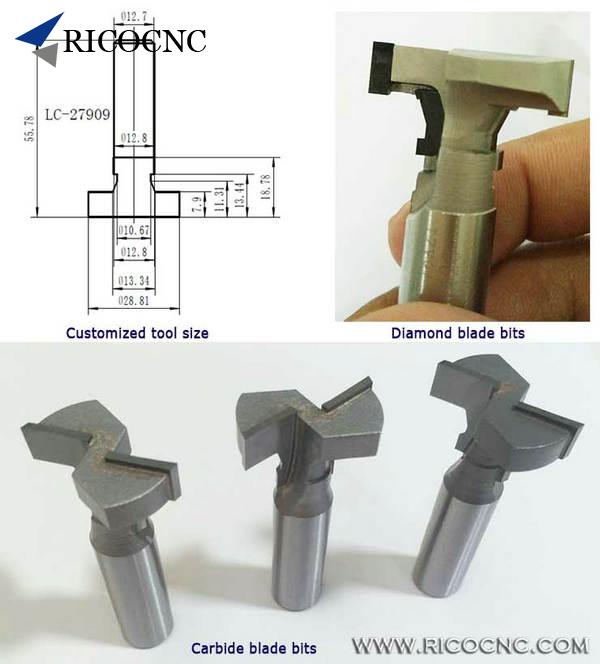 Customized Slatwall Carving Tools T Slot Router Bits for Slat Wall Grooving
These T slot slatwall router cutter bit fixed into cnc router is widely use for slat wall making. Cutting T slot with smoth finish. There are two types: carbide t slot bit and diamond t slot bit. And we can produce customized size bits as per your needs.
For MDF, chipboard, partical board cutting, carbide t slot bit is ok.
But for melamine MDF, carbide slot bit can not last long time use, and the finish is not good. Because the melamine surface is very tough, also very fragile, if the cutter blade is not sharp enough, the finish is bad. How to get a good finish? Diamond slot bit will be helped, as diamond bit is hard enough and sharp.

Slatwall Router Cutters Features:
1, These T slot bits give you a fast, inexpensive way to hang pictures, plaques, etc. flash to the walls.
2, No need for hooks and wires.
3, Create a T-slot shoulder which grabs the head of nail or screw.
4, Or use it for many other projects will be available, such as T slot panel cutting, slatwall making, etc.

T Slot Cutter for Slat Wall Description:
Type: T slot wood bits
Shape: T slot
Cutter Edge Diameter (CED): optional
Cutter Edge Length (CEL): optional
Shank diameter (SHK): 12.75mm
Cutting depth: optional
Pack size: 1PC in one plastic box.
Material: Solid Carbide (Tungsten Steel) or Diamond

We can make the size as per your needs.
Welcome your inquiry.