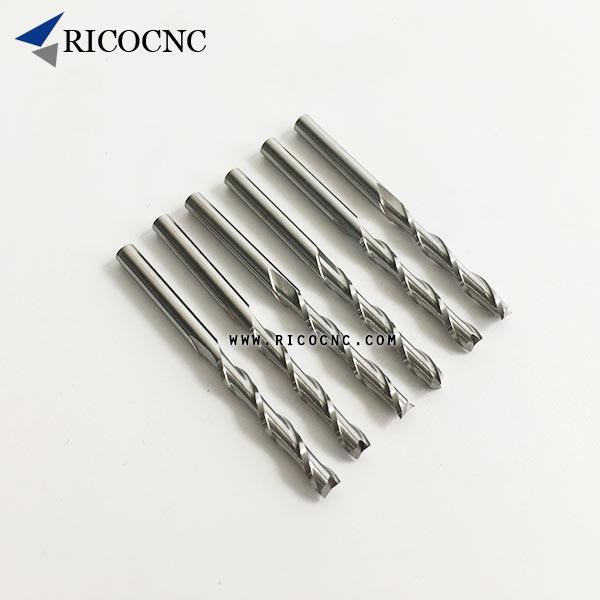 Upcut Spiral Router Bit Carbide Spiral End Mill Cutters
This cnc router bit is upcut endmill spiral bit, usually used for CNC Router Cutting, it is good for cutting on wood, MDF, Low desity fiber board, Plywood, Chipboard, Acrylic, PVC, Two-color plate and so on.
Upcut Spiral Router Bits Description:
Type: Upcut Double Flutes Spiral Bits
Shape: Endmill
Cutter Edge Diameter (CED): optional
Cutter Edge Length (CEL): optional
Shank diameter (SHK): optional
Overall length of cutter (OVL): optional
Pack size: 1PC in one plastic box, 10PCS in one plastic case.
Material: Solid Carbide (Tungsten Steel)
We can aslo supply you single flute spiral bits, triple flute spiral endmill bits, compression bits, etc.
RicoCNC supplies a range of cnc cutter bits, cnc spare parts, cnc tooling system, etc.


Carbide Upcut Spiral Bit Sizes:
| | | | | |
| --- | --- | --- | --- | --- |
| Item No. | CED (mm) | CEL (mm) | SHK (mm) | OVL (mm) |
| N2LX3.0.803 | 0.8 | 3 | 3.175 | 38 |
| N2LX3.1.04 | 1 | 4 | 3.175 | 38 |
| N2LX3.1.204 | 1.2 | 4 | 3.175 | 38 |
| N2LX3.12 | 3.175 | 12 | 3.175 | 38 |
| N2LX3.17 | 3.175 | 17 | 3.175 | 38 |
| N2LX3.20 | 3.175 | 20 | 3.175 | 45 |
| N2LX3.22 | 3.175 | 22 | 3.175 | 45 |
| N2LX3.25 | 3.175 | 25 | 3.175 | 50 |
| N2LX3.28 | 3.175 | 28 | 3.175 | 55 |
| N2LX3.32 | 3.175 | 32 | 3.175 | 60 |
| N2LX412 | 4 | 12 | 4 | 40 |
| N2LX415 | 4 | 15 | 4 | 40 |
| N2LX417 | 4 | 17 | 4 | 40 |
| N2LX422 | 4 | 22 | 4 | 45 |
| N2LX425 | 4 | 25 | 4 | 50 |
| N2LX428 | 4 | 28 | 4 | 55 |
| N2LX432 | 4 | 32 | 4 | 60 |
| N2LX517 | 5 | 17 | 5 | 50 |
| N2LX522 | 5 | 22 | 5 | 50 |
| N2LX525 | 5 | 25 | 5 | 55 |
| N2LX612 | 6 | 12 | 6 | 45 |
| N2LX617 | 6 | 17 | 6 | 50 |
| N2LX622 | 6 | 22 | 6 | 50 |
| N2LX625 | 6 | 25 | 6 | 55 |
| N2LX628 | 6 | 28 | 6 | 55 |
| N2LX632 | 6 | 32 | 6 | 60 |
| N2LX642 | 6 | 42 | 6 | 80 |
| N2LX6.17 | 6.35 | 17 | 6.35 | 50 |
| N2LX6.22 | 6.35 | 22 | 6.35 | 50 |
| N2LX6.25 | 6.35 | 25 | 6.35 | 55 |
| N2LX6.35 | 6.35 | 35 | 6.35 | 70 |
| N2LX825 | 8 | 25 | 8 | 60 |
| N2LX835 | 8 | 35 | 8 | 80 |
| N2LX845 | 8 | 45 | 8 | 90 |
| N2LX855 | 8 | 55 | 8 | 100 |
| N2LX865 | 8 | 65 | 8 | 110 |
| N2LX1025 | 10 | 25 | 10 | 60 |
| N2LX1035 | 10 | 35 | 10 | 80 |
| N2LX1045 | 10 | 45 | 10 | 90 |