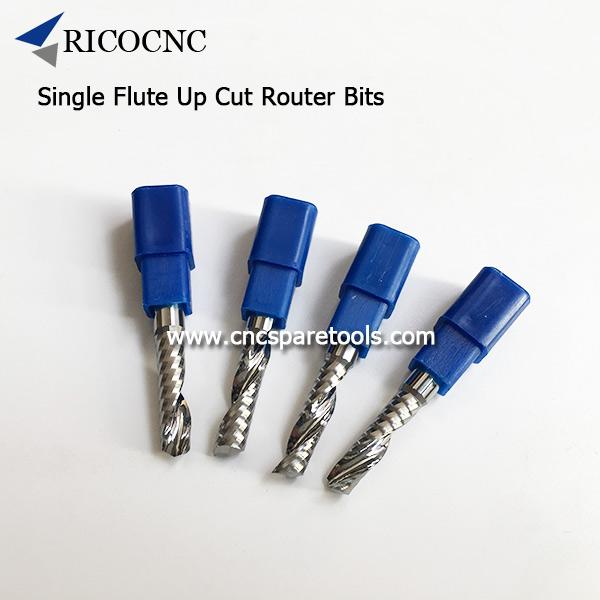 Single Flute Spiral CNC Router Bits Solid Carbide Up Cut Bits for Woodworking
This solid carbide up cut cnc router bit is single flute spiral bit in woodworking router bits. It is general type 1 flute end mill bits, spiral fluted.
Single flute up cut spiral bits help chip removal and strength for small size, widely used with signs making CNC router machine. Ideal for MDF, plywoods, color boards, PVC, plastics and non-ferrous metals and plastwood cutting.
RicoCNC also supplies single flute upcut spiral especially for acrylic, single spiral router bits especially for Aluminum, also single flute compression spiral bits, and other cnc router cutter bits.
Single Flute Spiral Router Bits Sizes:
| | | | | |
| --- | --- | --- | --- | --- |
| Item No | CED (mm) | CEL (mm) | SHK (mm) | OVL (mm) |
| 1LX3.06 | 3.175 | 6 | 3.175 | 38 |
| 1LX3.08 | 3.175 | 8 | 3.175 | 38 |
| 1LX3.10 | 3.175 | 10 | 3.175 | 38 |
| 1LX3.12 | 3.175 | 12 | 3.175 | 38 |
| 1LX3.15 | 3.175 | 15 | 3.175 | 38 |
| 1LX3.17 | 3.175 | 17 | 3.175 | 38 |
| 1LX3.20 | 3.175 | 20 | 3.175 | 45 |
| 1LX3.22 | 3.175 | 22 | 3.175 | 45 |
| 1LX3.25 | 3.175 | 25 | 3.175 | 50 |
| 1LX3.28 | 3.175 | 28 | 3.175 | 55 |
| 1LX3.32 | 3.175 | 32 | 3.175 | 60 |
| 1LX412 | 4 | 12 | 4 | 40 |
| 1LX415 | 4 | 15 | 4 | 40 |
| 1LX417 | 4 | 17 | 4 | 40 |
| 1LX422 | 4 | 22 | 4 | 45 |
| 1LX425 | 4 | 25 | 4 | 50 |
| 1LX428 | 4 | 28 | 4 | 55 |
| 1LX432 | 4 | 32 | 4 | 60 |
| 1LX442 | 4 | 42 | 4 | 70 |
| 1LX522 | 5 | 22 | 5 | 50 |
| 1LX525 | 5 | 25 | 5 | 55 |
| 1LX528 | 5 | 28 | 5 | 55 |
| 1LX532 | 5 | 32 | 5 | 60 |
| 1LX617 | 6 | 17 | 6 | 50 |
| 1LX622 | 6 | 22 | 6 | 50 |
| 1LX625 | 6 | 25 | 6 | 55 |
| 1LX628 | 6 | 28 | 6 | 55 |
| 1LX632 | 6 | 32 | 6 | 60 |
| 1LX642 | 6 | 42 | 6 | 80 |
| 1LX652 | 6 | 52 | 6 | 90 |
| 1LX6.17 | 6.35 | 17 | 6.35 | 50 |
| 1LX6.22 | 6.35 | 22 | 6.35 | 50 |
| 1LX6.25 | 6.35 | 25 | 6.35 | 55 |
| 1LX825 | 8 | 25 | 8 | 60 |
| 1LX835 | 8 | 35 | 8 | 80 |
| 1LX845 | 8 | 45 | 8 | 90 |
| 1LX855 | 8 | 55 | 8 | 100 |
| 1LX1025 | 10 | 25 | 10 | 60 |
| 1LX1035 | 10 | 35 | 10 | 80 |
| 1LX1045 | 10 | 45 | 10 | 90 |
| 1LX1055 | 10 | 55 | 10 | 100 |
| 1LX1075 | 10 | 75 | 10 | 120 |
| 1LX1235 | 12 | 35 | 12 | 80 |
| 1LX1245 | 12 | 45 | 12 | 90 |
| 1LX1255 | 12 | 55 | 12 | 100 |
| 1LX1275 | 12 | 75 | 12 | 120 |
| 1LX12.35 | 12.7 | 35 | 12.7 | 80 |
| 1LX12.45 | 12.7 | 45 | 12.7 | 90 |
| 1LX12.55 | 12.7 | 55 | 12.7 | 100 |
| 1LX12.75 | 12.7 | 75 | 12.7 | 130 |