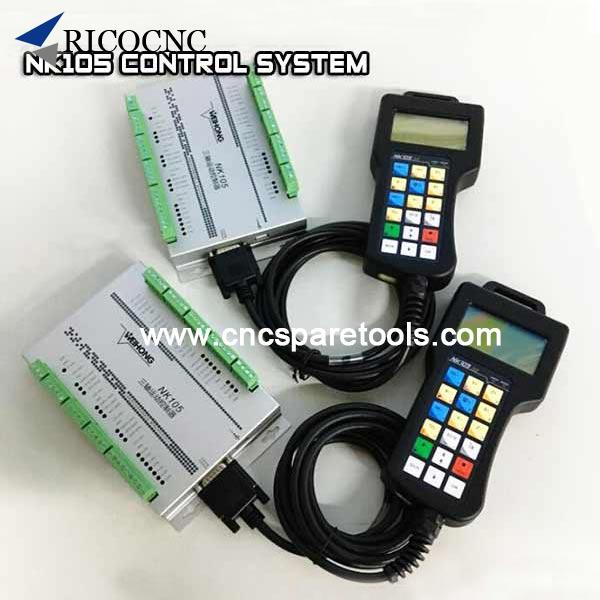 NK105 G2 DSP Control System Weihong NK105G2 Kontroler for 3 Axis CNC Routers
This NK105 G2 3 axis cnc control system is designed by Shanghai Weihong which is famous for Nc studio control system. Different from Nc studion PCI control system, this one is the DSP handle control system. It is similar to Beijing
Richauto A11 DSP control system
,
but the control botton fuction gets a big improvement.
The Wehong NK105 G2 control system is widely used with our 3 axis cnc router machines.
Basic Configuration of NK105 G2 System:
Number of Axes Supported: 3 axes
CPU: ARM11
Memory: 128M
Flash: 256M
Monitor: 128 × 64 graphic LCD module
I/Os: Standard
Performance Indicator:
1) The product stands EMI/Electrical fast transient immunity/Surge immunity tests and conforms to the fourth grade protection standards of GB/T 17626.5-2008.
2) Resistance to vibration conforms to the GB/T 2423.10-2008 Standards.
3) The product stands rigid temperature tests and conforms to the industrial standards of GB/T 2423.102-2008.
Spindle speed: Multiple Gears, 8 gears of spindle speed
Tool Measurement Mode: Auto measurement, Manual measurement
Tool Measurement Type: Fixed calibration, Mobile calibration,
Compensation: Blacklash compensation
Toolpath Program Supported: *.g/*.nc/*.ug/*.demo/*.iso/*.eng/*.cut/*.dxf/*.plt/*.txt
Operations:
WCS Setting: Supporting WCS G54-G59
Processing Technology: Array function, Cycle machining
Convenitent Operations: Handwheel guide, Breakpoint resume, Tool selection
High-speed High-precision Optimization (Interpolation Algorithms): T-type and S-type algorithms
Software Language: Chinese, English, Polish, Vietnamese
Reliability & Safety (CNC Software Alarm):
Alarms of program error, operation error, over-travel error, PLC error and IO communication error
Weihong nk105 g2 manual can be sent free.
You can choose the machine work with kontroler NK105 DSP, also can buy NK105 G2 3 axis cnc system from us.
RicoCNC
sales a big range of origin
cnc spare parts
,
all products are original from the manufacturer, no copy parts here.
Welcome your inquiry.