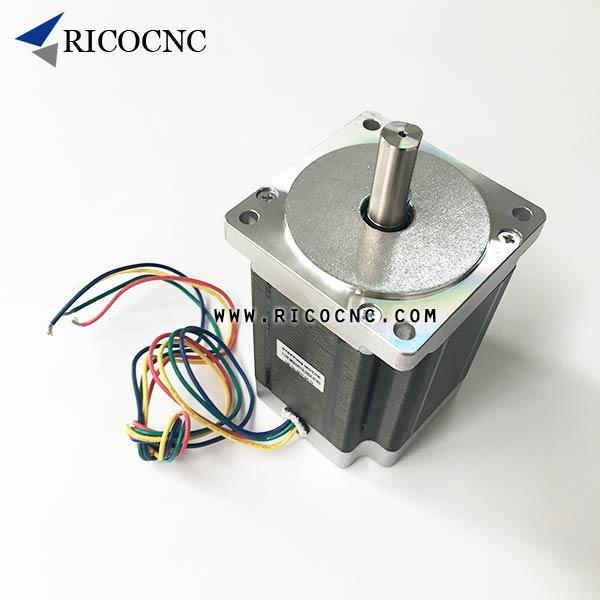 86BYGH450B Bipolar Step Motor NEMA34 Hybid Stepper Motor for CNC Router Machines
This 86BYGH450B
hybrid stepping motor
is 1.8 degree 2 phase stepper motor widely used for middle size cnc routers. Consider the measuring error, sometimes also called 86BYGH450B. The 14mm shaft diameter ensures stability in applications with belt transmission or planetary reducer. Also have the stepping motor with 12mm shaft with key, D shaft, etc.
Round or "D" Shaft: These are available in a variety of standard diameters and there are many pulleys, gears and shaft couplers designed to fit. "D" shafts have one flattened side to help prevent slippage. These are desirable when high torques are involved.
"D" Shaft are widely used with planetary reducer to avoid slippage.
86BYGH450B Hybrid Stepper Motor Parameters:
Leading wires: 4 leading wire
Shaft diameter: 12.7 or 14mm
Shaft lenght: 35mm
Motor dimension: 86*86*114mm
Step Angle: 1.8°±5%
Winding: 2 Phase
Insulation Resistant: 500V DC, 100MΩ Min
Insulation Strength: 50Hz 1Minute 500V Min
Ambient Temperature: -20°C ~ +50°C
Voltage: 3.25VDC
Current: 5 A
Resistant: 0.6 Ohm
Torque: 68 Kg.cm
85BYGH450B CNC Router Stepper Motor Features:
1Step motors are able to start and stop, rotate and reverse.
2. Rotational angle is proportional to the number of input pulses.
3. Rotational speed is proportional to the input pulse rate. (pulse ratio)
4. Even in the state of non-exciting, some self-holding torque (Detent torque) is generated because the permanent magnet is used.
5. High torque, high response and light weight.
6. Micro step drive, high accuracy and less expensive.
7. Maintenance-free because there is no mechanical defacement like a brush for a DC motor.
85BYGH450A,
57BYGH311-01stepper motors
also supplied here.
RicoCNC
supplies a range of
CNC accecsories
for CNC router machines, such as
drivers
, controllers,
motors
,
linear blocks
,
spindles
, also many other
cnc spare parts
,
cnc tooling systems
, and
woodworking machine replacements
.
It is a one-stop shop for CNC here, welcome your inquiry.